On June 1st VMware released the latest version for VMware Cloud Foundation (VCF), version 5.0. The release of VCF 5.0 means that VCF customers now can benefit from all the cool new features included in vSphere 8.x and NSX 4.1.x.
The first release off VCF dates back to 2015. During the VMworld (what we now know as VMware Explore) of that year VMware launched a product called SDDC EVO. In the following years that product evolved to what we know today as VCF.
VCF is the standard for a VMware hybrid cloud platform. It brings the core hypervisor (VMware vSphere) and extends this software-defined storage, networking and security capabilities that can be consumed on premise or in the public cloud.
With the standard architecture model, management workloads run on a dedicated management domain and application workloads are deployed in separate virtual infrastructure (VI) workload domains. Each workload domain is managed by a separate vCenter Server instance that provides scalability and enables autonomous license and lifecycle management. Standard architecture is the recommended model because it aligns with VMware best practice of separating management workloads from customer workloads. It offers better flexibility and long-term expandability. This architectural model supports multiple VMware Cloud Foundation instances, with each instance running at least two workload domains: management and virtual infrastructure.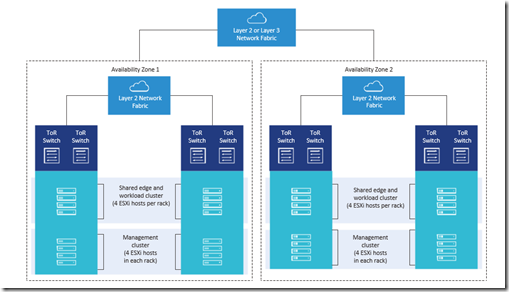 What's New
The VMware Cloud Foundation 5.0 release includes the following improvements:
In-place upgrade: VCF 4.3.x, VCF 4.4.x, VCF 4.5.x can upgrade to VCF 5.0 from SDDC Manager UI (with internet access) or using the Bundle Transfer Utility (without internet access).

Isolated Workload Domains: Create and manage workload domains that can each join the management domain's vCenter Single Sign-On domain or a new vCenter Single Sign-On domain that is not used by any other workload domain.

BOM component interoperability data checks: Auto-checks of BOM component interoperability within SDDC Manager.

BOM product re-licensing: Ability to perform relicensing of VCF BOM components from SDDC Manager UI.

Licensing update: SDDC Manager is now licensed as part of VCF. Therefore, a separate SDDC Manager license key is no longer required.

Improvements to upgrade prechecks: Upgrade prechecks now provides granular control over version-specific and individual component prechecks.

Improvements to Configuration Update workflow: Configuration Updates can be applied between upgrade applications or can be saved to be applied at a later time.

New upgrade option for ESXi Upgrade: If there are any powered-off virtual machines in the chosen cluster to be upgraded, they will only be evacuated during the upgrade process if this option is enabled. Otherwise, they will not be migrated specifically for the purpose of the upgrade.

Scaled support: Ability to upgrade 10 clusters (hosts) across 5 workload domains (5*10) simultaneously in ESXi, allowing for parallel upgrades to occur.

In-product feedback: SDDC Manager can prompt customers at random intervals to provide feedback related to VMware Cloud Foundation.

VMware NSX-T Data Center rebranding: Starting with version 4.0, VMware NSX-T Data Center is known as VMware NSX
VMware Cloud Foundation
BOM
The VMware Cloud Foundation software product is
comprised of the following software Bill-of-Materials (BOM). The components in
the BOM are interoperable and compatible.
Software Component

Version

Date

Build Number

Cloud Builder VM

5.0

01 JUN 2023

21822418

SDDC Manager

5.0

01 JUN 2023

21822418

VMware vCenter Server Appliance

8.0 Update 1a

01 JUN 2023

21815093

VMware ESXi

8.0 Update 1a

01 JUN 2023

21813344

VMware vSAN Witness
Appliance

8.0 Update 1

14 APR 2023

21495797

VMware NSX

4.1.0.2

01 JUN 2023

21761691

VMware vRealize Suite Lifecycle Manager

8.10 Patch 1

21 FEB 2023

21331275