VMware released vSphere version 7.0 U1c – 17327586 in December 2020. Next to the cool new features that is included in this version (This blog is al about one of those cool features) another very important reason to download and install this version of vSphere is that it closes a major security issue with previous versions. You can find more info on this here.

New features in this version of vSphere include the following:
Physical NIC statistics
Advanced Cross vCenter vMotion
Parallel remediation on host in clusters that you manage with vSphere Lifecycle Manager baselines
Third-party plug-ins to manage services on the vSAN Data Persistence platform
The VMware release notes have the following to say about this new feature:
With vCenter Server 7.0 Update 1c, in the vSphere Client, you can use the Advanced Cross vCenter vMotion feature to manage the bulk migration of workloads across vCenter Server systems in different vCenter Single Sign-On domains. Advanced Cross vCenter vMotion does not depend on vCenter Enhanced Linked Mode or Hybrid Linked Mode and works for both on-premise and cloud environments. Advanced Cross vCenter vMotion facilitates your migration from VMware Cloud Foundation 3 to VMware Cloud Foundation 4, which includes vSphere with Tanzu Kubernetes Grid, and delivers a unified platform for both VMs and containers, allowing operators to provision Kubernetes clusters from vCenter Server. The feature also allows smooth transition to the latest version of vCenter Server by simplifying workload migration from any vCenter Server instance of 6.x or later.
In this blog we will describe the process of importing VMs form a 6.7 vCenter to the updated 7.0.1 vCenter, making use of the cross vCenter technology. To prepare the environment for cross vCenter vMotion the vMotion network has to be configured with a gateway.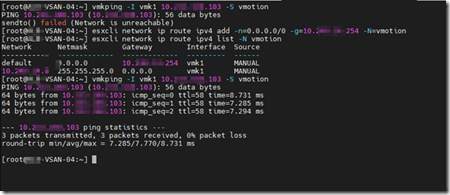 At the receiving side we tried to VMKping the sending host over the vMotion VMKernel port. When this failed we added a route to any foreign network across the gateway. When we retried the VMKping it was successful.
On the sending side we also configured the vMotion network with a gateway entry.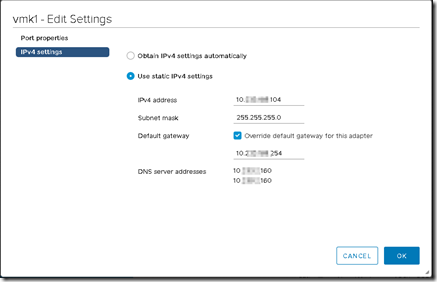 To start the process of performing a cross vCenter vMotion we right click on the cluster or ESXi host.

Click on Import VMs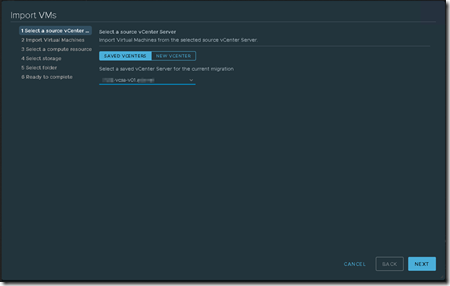 Select source vCenter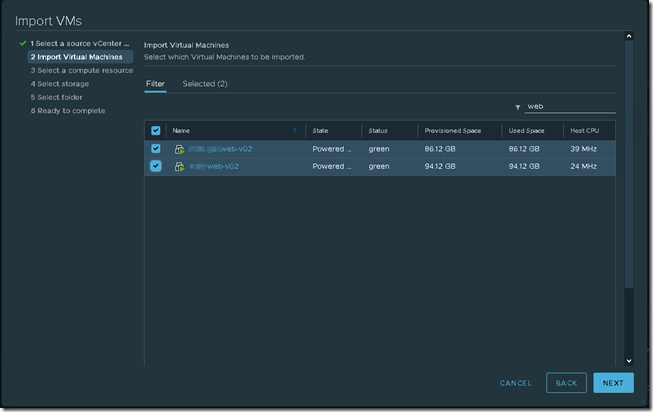 Select the VMs you want to move.

Select the host to transfer the compute to.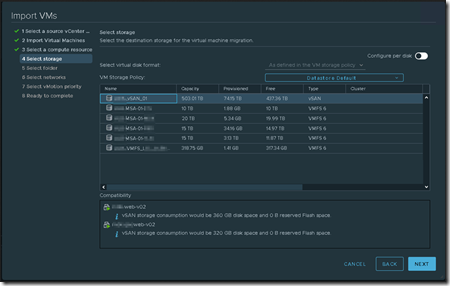 Select the destination storage.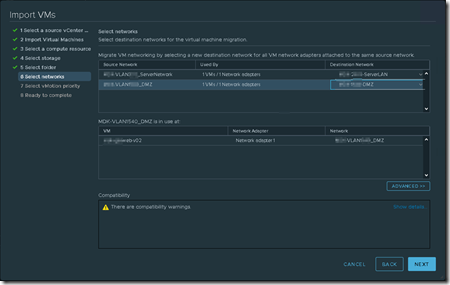 Select networks.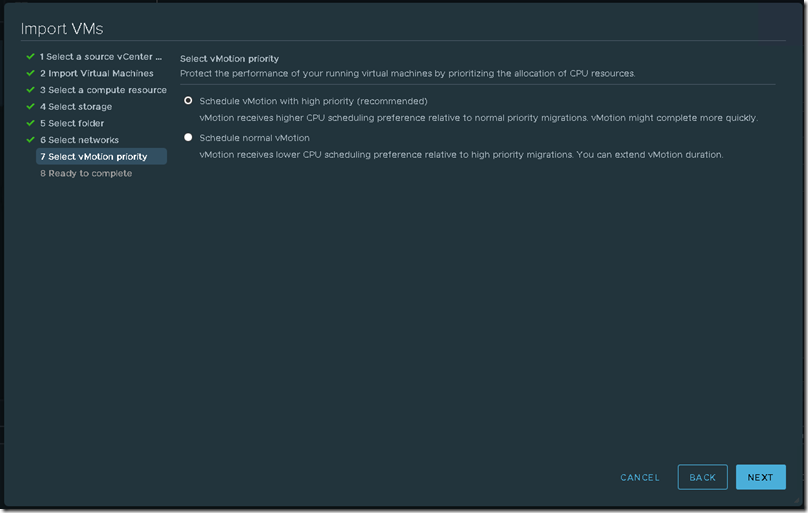 Select vMotion priority.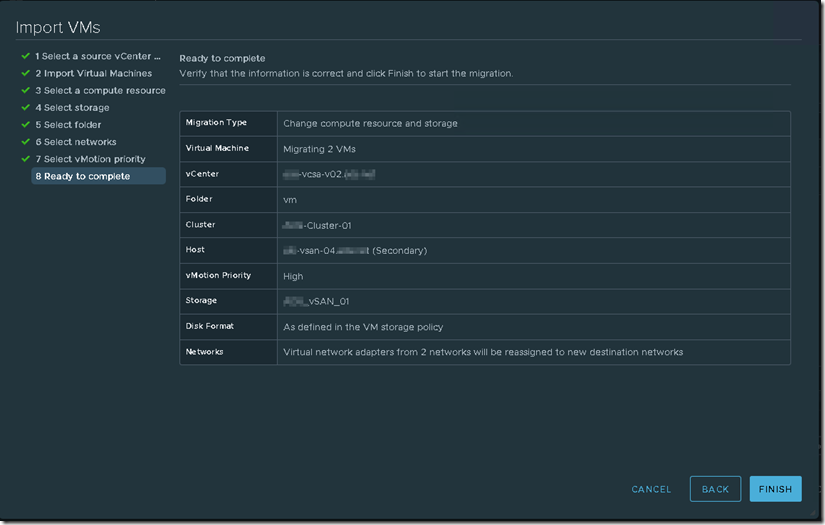 Ready to complete, click Finish.
The 7.0.1 environment also makes use of NSX-T network virtualization. Why is this important to mention? If you want to perform a roll back you can't move a VM that is connected to a NSX-T managed portgroup to a none NSX-T managed portgroup. To remediate this issue you should create a none NSX-T portgroup with the same vLAN and add the VM you want to rollback to that portgroup.