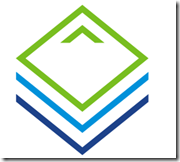 On VMware Explore US (the event previously known as VMworld) vSphere 8 and vSAN 8 was announced. In this blog I want to explain what has been changed. vSAN was first introduced back in 2014, the product has been evolved allot in these past 8 years. A few of these changes are support for All-Flash, Encryption, Deduplication and allot improvement in how vSAN handles failures and maintenance mode.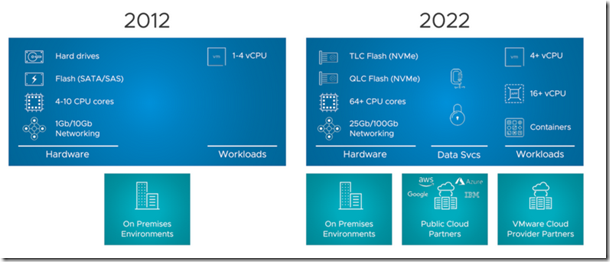 In the above image you can see the changes in what customers require from vSAN through the years. 10 years ago we where still using spinning disks, mostly due to the cost of Flash disks at that time.
ESA Architecture
With vSAN 8 comes a new optional architecture. This architecture is called Express Storage Architecture or ESA for short. One important expect of vSAN that still remains the same with vSAN 8 is that it does not require any extra software. vSAN is built into vSphere 8 ESXi. vSAN is enabled by added the appropriate license to vCenter (and attach the license to the underlying vSphere ESXi hosts) and configure it at cluster level. It is a new way to process and store the data. The ESA in vSAN 8 is an alternative to the Original Storage Architecture (OSA) found in all previous editions of vSAN, as well as an optional architecture in vSAN 8.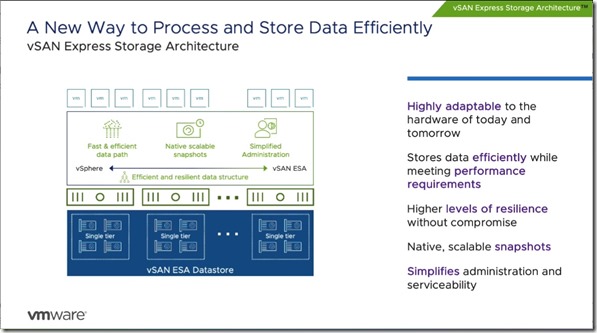 Some of the new key features for the new vSAN ESA architecture include:
Flexible architecture using a single tier in vSAN 8
No disk groups, in the new vSAN architecture all disks contribute to the caching and capacity storage
The new solution is optimized for high-performance NVMe-based flash devices with QLC-based flash
Improved efficiency through optimized data handling
Scalable, high-performance native snapshots.
Requirements
To make use of the vSAN 8 capabilities you have to select vSAN ReadyNodes approved for use with the ESA, and appropriate licensing. Customers using a vSAN Advanced or vSAN Enterprise license will be able to use this high-performance architecture in vSAN 8. Other license types will be able to use the Original Storage Architecture in vSAN 8 that we all know and love. ESA requires NVMe-based TLC storage devices. This does not raises the TCO of the environment. This is because of the following reasons. 1) You no longer require separate cache devices, because of the use of Storage Pools instead of Diskgroups. 2) Erasure codes is way more space efficient without a performance compromise. 3) vSAN 8 comes with major improvements in the compression architecture that will bring more capacity savings to existing environments.
Important to note that for vSAN 8 and the ESA the servers have to be vSAN ReadyNodes approved for use with the ESA. In this release of vSAN 8, the ESA does not support a "Build Your Own" (BYO) configuration.
Upgrade Path
When you perform an in-place cluster upgrade from vSAN 7 to vSAN 8 your environment will continue to make use of the Original Storage Architecture (OSA). If a new cluster does not meet the ESA requirements, the cluster will use OSA. ESA will be used if the new cluster hardware meets the ESA requirements. vSAN 8 OSA introduces new enhancements, including an increase for the write buffer limits, HCI-Mesh improvements, File Services Improvements and new network latency enhancements.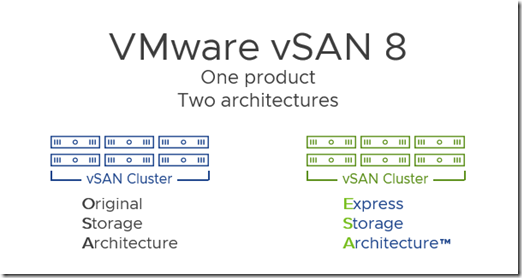 Storage Pool
The ESA is optimized with today's hardware capabilities in mind. It has been re-engineered, which means that all disks will contribute to both the capacity and caching tiers of the vSAN cluster. This makes it a Single Tier storage layer. The ESA includes a new log structured file system and the IO path optimizations to the write path. These improvements made it possible to further reduce write amplification and further reduce write latency.